All About the NFT Industry
I've been doing these sorts of lists internally at the companies I've worked for since the early 2000's. I find them helpful. Maybe you will too?
Because I am tracking these things and want one place to remember them.
The Most Interesting Stuff
On Integration: The Next Phase of Digital Avatars. (December 18, 2021) Found this to be super-interesting, I'm sure partly because of my bias towards the complexity of integration (which drives interoperability). It starts:
"People are still thinking far too small when it comes to the future digital avatars, and I think this stems from one thing in particular: a misunderstanding of what true interoperability will look like."
NFT Marketplace Announcements
Rakuten Launches Rakuten NFT, a New Marketplace and Sales Platform for NFTs. (February 25, 2022) Interesting that they're tying into anime, as I haven't seen that called out before. Also, they're telegraphing their direction talking about peer-to-peer resale and comparing to trading cards.
Microsoft's Minecraft Goes Web3 With 'NFT Worlds' on Polygon. (February 25, 2022) Minecraft had over 140 million active users in '21, which makes this a pretty freaking large market. Uses polygon, built on top of Minecraft. Polygon has a truly incredible developer ecosystem. Let's see how they address interoperability across chains.
StableDuel and Vivid Labs Announce Horse Racing's First NFT Marketplace. (January 27, 2022) Horse racing! When NASCAR? Seriously, this shows how broad the opportunity for marketplace creation is.
Shopify barely bothered announcing it's getting into NFTs. (December 17, 2021) Shopify spending more time building, both the tech and the program, and less time talking about what they're doing. It's so easy to see the parallels – where OpenSea and others are like the Amazon's of the NFT space, and how Shopify is positioning themselves against these centralized marketplaces to be the merchant platform for anyone selling NFTs that doesn't want to be bound by a centralized set of decisions about what a marketplace should be.
Shopify Now Supports NFT Sales, Starting With Chicago Bulls. (July 26, 2021) Initial word from Shopify of their intention with NFT enablement on their platform, also hinting at the problems they ran into with other solutions, that it was difficult to go cross-chain and make it easy for merchants in a multichain world.
Fund Raising
Blockchain infrastructure provider InfStonees closes $33M Series B. (February 24, 2022) They've raised $12M previously, so total is now $45M raised. "Offering a powerful, scalable self-service staking platform that makes it easy for users to deploy and manage nodes on any chain. Our goal is to bring the AWS experience to Web3 so developers and companies can more easily offer staking services..."
Worldspark Studios raises $3M for NFT games from Riot, Bungie veterans. (February 24, 2022) Delivering "cosmetic elements" as NFTs. They key being that these NFTs would be cross-game interoperability (over time).
NFT Industry Press
Music NFTs become latest battlegroud between capitalists and creators. (February 25, 2022) Interesting piece about the tension between those who are experimenting with NFTs to explore content ownership and eliminating the intermediaries, and those who feel "how sweet, now artists can become little capitalist assholes as well".
Nansen NFT indexes: a new way to invest in NFTs. (February 23rd, 2022) Presented as a reliable way to invest in NFT markets. The assumption is that there is "growing depth to the NFT industry". They have an interesting segmentation on this page - Art, Social, Game, Metaverse, with sub-categories below each as shown in this image from their announcement: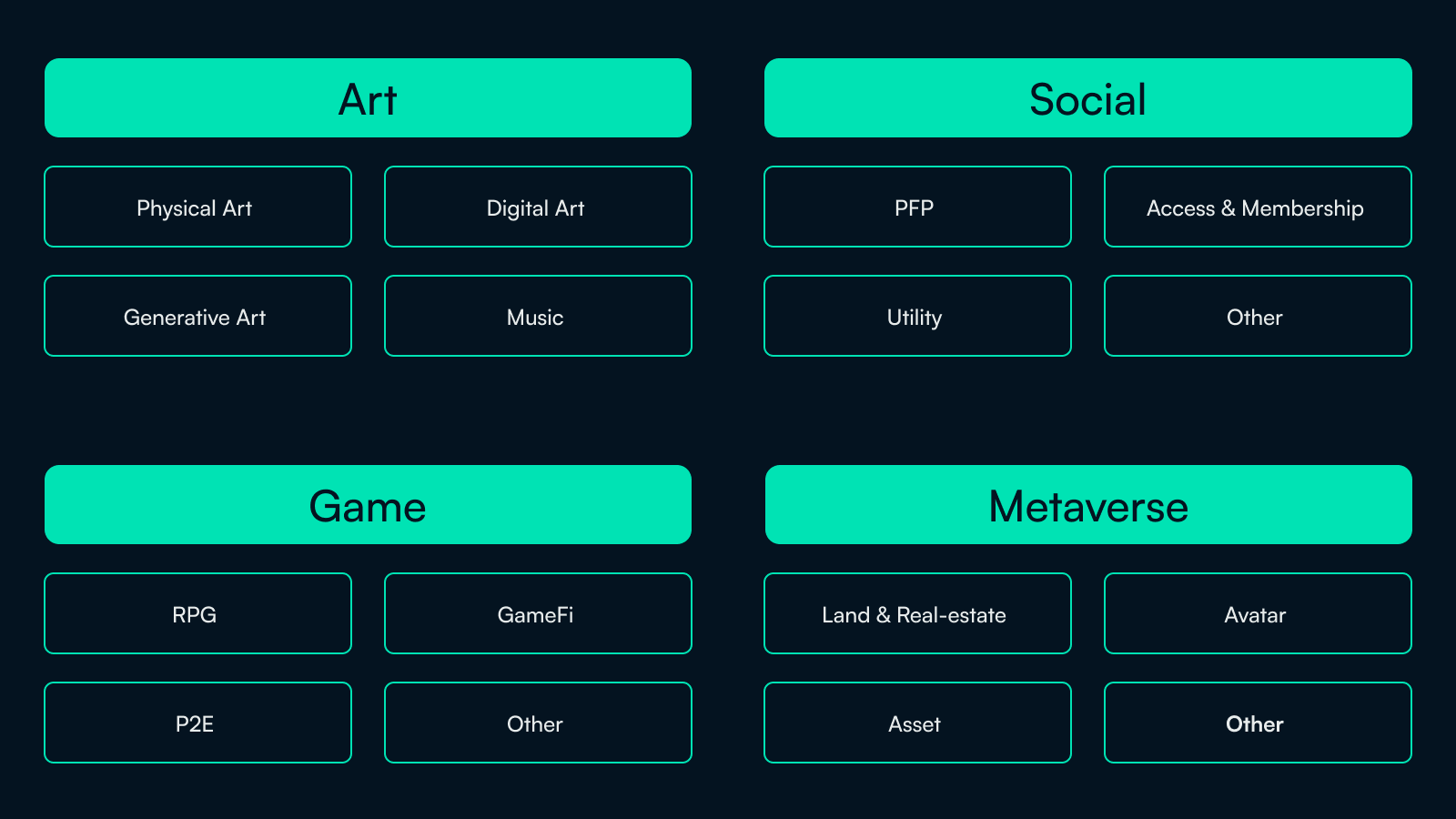 Why OpenSea's NFT marketplace can't win. (February 18th, 2022) Seems like people are upset about their lack of "content moderation and copyright enforcement". I disagree with the premise that this is an existential problem for OpenSea. They'll sort it out and the industry will move on. It's so early the benefits of being first well-outweigh the negative perception accruing to their (in all likelihood completely unavoidable) missteps due to the market maturing around them.
Enjoying these posts? Subscribe for more