A little personality
In front of a room full of sales people I once joked:
"You've heard of being a mile-wide and an inch-deep? Well, I'm a mile-wide..."
After an awkward silence where I just let that hang, there were some brief chuckles, mostly from the people who already knew me.
We don't need to solve every problem every time, just the next problem right in front of us, and then the next. And the next. The insight I provide is understanding enough to correctly decide what the next problem is, considering where we want to end up.
It's that insight that makes me a sales person's best friend.
Keeping my eye on the opportunity, I'm able to deliver compelling, differentiated messaging with an authentic connection. I can do this one-on-one or to an audience.
I saw this quote from Range and thought it appropriate to understand how I approach learning and doing: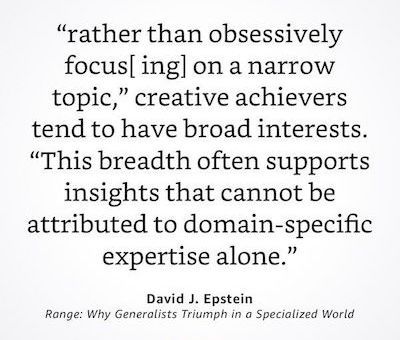 Work history
I've been in the B2B software space for most of my career at companies focused on integration, APIs, and security.
I'm definitely a "creative achiever" as described in the quote above. I explain complex technologies simply, to help people people best understand what technology and tech-trends mean for their business, and to help sales people deliver more effectively across the sales cycle.
Having worked (in-person) in about 30 countries I bring a cultural sensitivity and appreciation that's often lost in the digital world.
I've successfully launched new products, platforms, and solutions, and have enabled sales teams, both direct and indirect, to find more relevant, innovative opportunities, and win better. I use metaphors to explain hard to imagine technologies and tie big ideas to tactics so that my audience doesn't need to "just" trust me. They verify my ideas by taking action.
You can see the companies I've worked for and the roles I've held over on LinkedIn.
You can watch me launching a new platform to the 2010 Progress sales kickoff. Funny story – all of my equipment broke and I couldn't see the slides. After one quick look over my shoulder to make sure that the audience could see the slides, I did this entire presentation by memory and slide counting:
Personal accomplishments
Diving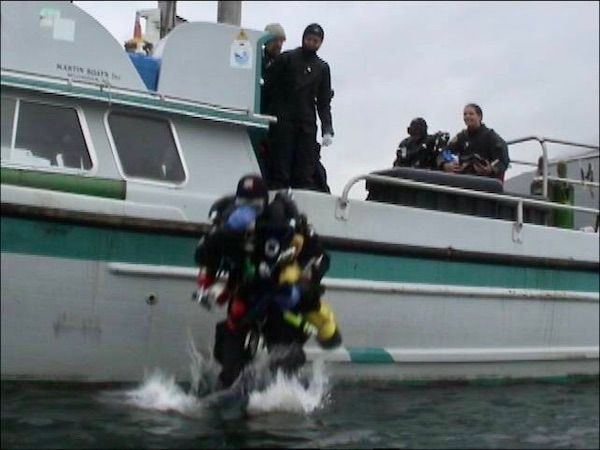 I used to crew on the Dive Vessel Seeker out of Point Pleasant, NJ. The work I did there speaks to my discipline of practice, because when stuff hits the fan you want someone familiar with what needs to happen, not trying to remember what they learned in class.
The crew of the Seeker discovered a German submarine where it didn't belong and literally rewrote history. The story became a great adventure book.
I've dived and crewed trips to the Andrea Doria, the Mount Everest of scuba diving.
I did some wreck exploration in Uyak Bay, Alaska. It's as remote as it sounds and as cold as you'd expect. After being the diver who penetrated deepest into the shipwreck we were exploring and discovering parts of the ship no one else had, I was written up in a dive magazine.
Here's a quote from that article:

Or just listen to me having just returned:
For those who prefer KPIs to experiences... I've been a mile and a half inside a cave (underwater) and 100m deep, inside a shipwreck, alone on my deepest dive.
Martial Arts
I've been training since 1980.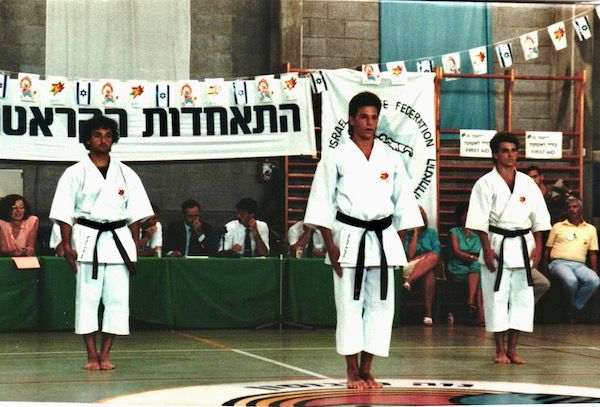 In 1989, I was a silver and bronze medalist at the 13th Maccabiah Games in Israel representing the United States.
In 1990, I beat some 250 competitors to achieve 4th place in a massive tournament in Las Vegas. Getting video in those days was quite rare, it's one of the few (only?) competition videos I have.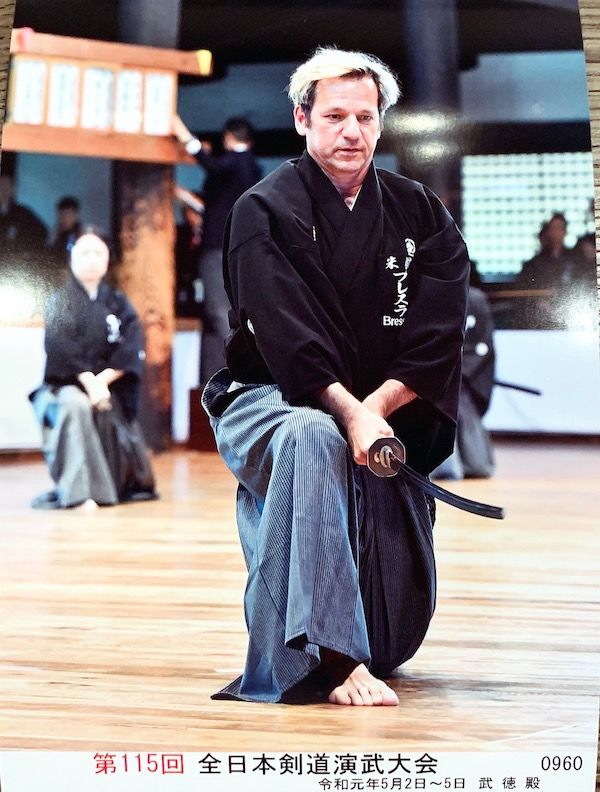 In 2019, I was eligible for and participated in the Kyoto Taikai. The Kyoto Taikai has been held every year since 1895, except for war, occupation, and... pandemic. I'm looking forward to heading back in 2023 and reconnecting with teachers and friends we haven't been able to train with for a few years now.
Books
I've written two:
Key Strategies for SOA Testing (corporate sponsored technology)
The Elephant in the Room has a Paycheck (investing)
I enjoy writing as a way of thinking through a problem completely. It's like teaching, but no student necessary. Most companies erase you once you leave, it turns out, Progress Software has not (erased me) and 8 pages of posts are still up on their blog.